Doug Cook, SWLC, MSW, JD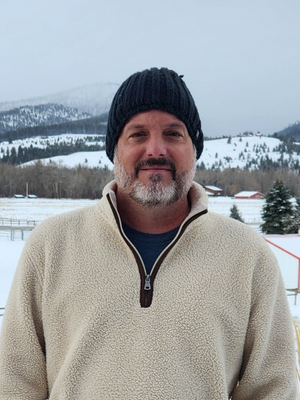 Welcome to Sunflower Counseling! I look forward to working beside you during this stage of your journey through life. When we travel, we sometimes visit with others to get suggestions or overcome obstacles to make our trip as great as possible. Our journey through life is no different, and I'm happy to work with you to meet your needs and achieve the goals that you identify. Collaboration is essential to sustained success.
Before joining Sunflower, I served as a clinician on the Mobile Support Team in Missoula. As a crisis response clinician, I helped individuals work through acute mental health and related crises. After the acute phase of crises, I regularly collaborated with individuals as they identified and achieved their goals. I've worked extensively with youth, adults, and seniors. I strongly believe in respecting individual characteristics while honoring cultural, gender, and all other identities.
I have worked with individuals living with symptoms related to a wide range of mental illnesses, including:
Depressive Disorders
Anxiety Disorders
Substance Use Disorders, including alcohol, opiates, and stimulants
Trauma and Stressor Related Disorders, including Post-Traumatic Stress Disorder (PTSD)
Bipolar and Related Disorders
Neurodevelopmental Disorders, including Autism Spectrum Disorders and ADHD
Schizophrenia Spectrum and other Psychotic Disorders
Conduct Related Disorders, including Oppositional Defiant Disorder
Personality Disorders, including Borderline, Schizotypal, and Antisocial Personality Disorders
Obsessive-Compulsive and Related Disorders
Dissociative Disorders
Neurocognitive Disorders, including Alzheimer's Disease and Delirium
Co-Occurring Disorders
Whether you seek relatively brief help getting where you want to be, or lengthier, more comprehensive assistance as you learn to live with trauma and other challenges, I am here to walk with you and listen. I can help you develop the skills to live the healthier, happier life you desire.
Treatment should be tailored to meet each individual's unique background and circumstances. As such, I believe having a toolbox of approaches is critical. Motivational interviewing and mindfulness provide an essential foundation throughout my interactions with clients. Cognitive behavioral therapy, dialectical behavior therapy, strength-based therapy, and solution-focused brief therapy are the most common approaches I recommend to clients as they work towards a better place. I am happy to explore other ideas that clients may bring to our encounters. Together, we will find the path that works best for you.
Insurances accepted: Blue Cross Blue Shield, Aetna, Allegiance, Pacific Source, MT Health Co-Op (Utah health Plans), Cigna, Healthy MT Kids – under Blue Cross Blue Shield. Out-of-pocket is $90/session.