James Thompson, PCLC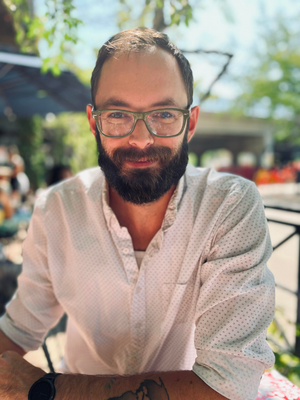 Welcome to my little corner at Sunflower Counseling! I am James Thompson, I am a Licensed Professional Clinical Counselor Candidate as well as a Montana School counselor. I received my Bachelor of Science in Counseling from Liberty University, where I also received my Master's degree in school counseling and Marriage and family therapy. Missoula has been my home for over 20 years. Having lived all over the world I love that Montana is home, the place I met my Missoula native wife.
I have worked with kids for the last 20 years in various capacities from extreme poverty and trauma in a Third World setting to running a preschool doing play therapy, to providing support at MCPS with youth in one of Missoula's middle schools for the last 10 years. It has been a privilege to serve the next generation in navigating trauma, PTSD, depression, anxiety, and substance struggles as well as the changing world around them. Being a part of their journey in learning how to have post-traumatic growth, self-advocacy, and seeking supportive systems like therapy.
As a candidate, I would like my practice to be emotionally focused, supporting adolescents, parents, and adults navigating life's ups and downs.  I am looking forward to taking an integrative approach to counseling, tailoring the work we do, to best suit your individual needs and experiences. I am eager to begin adding to my current School counseling license and LCPC to better support our community of Missoula.
My clients will find that my work with adolescents is strong as well as supporting adults who might be coming from a Military, religious background, or relational hurts from a family of origin or partnerships.  I have spent many years being a support to adults with maladaptive coping skills (addictions), adoption trauma, assault, abuse, and attachment struggles.
Being your therapist means I will support your journey and what you are needing from this work. This will always be a safe place to land and have the space to be. It would be an honor to work with you as you navigate your journey to addressing the things that are coming up in your life, be it new or past experiences. I look forward to walking alongside each person, with the utmost care and respect.
Insurances accepted: Blue Cross Blue Shield, Aetna, Allegiance, Pacific Source, MT Health Co-Op (Utah health Plans), Cigna, Healthy MT Kids – under Blue Cross Blue Shield. Out-of-pocket is $90/session.