This summer, the clinical psychologist Diana Hill, Ph.D. and her husband skipped the usual family vacation and took their kids to a Buddhist monastery in southern France. While such a major turn in plans might be out of reach for most of us, there is a lot we can learn from her experience.
Diana and her husband were feeling the same burnout that most of us have felt these last two (or more!) years. As a clinical psychologist, she knew something had to be done to get them and their kids back into balance. The kids were 9 and 12 years old, which helps. Younger children might not do as well in a monastic setting, even a modern one.
The monastery they went to is called Plum Village. It was founded by the late Vietnamese Zen monk, Thich Nhat Hanh. He had been an antiwar activist, an interfaith collaborator, and tireless proponent of mindfulness for everyone.
Many of my own early retreats and meditation trainings were in the tradition of Thich Nhat Hanh, or "Thay" (pronounced "Tie") as he's known to followers. At one retreat nearly 15 years ago, I took the precepts (training principles aimed at living a more ethical life) and was given the Dharma name "Supreme Dwelling of the Source." These Dharma names act as a sort of "boost" in our attempts to live a kinder and wiser life and often reflect qualities we aim to strive for.
Since then, I have lived in a number of Buddhist monasteries, mostly in India, Taiwan, and China. These were always on educational programs where we brought students to be immersed in the culture and practices of Buddhism.
Arrive and be home
The first lesson one gets from arriving at a Buddhist monastery is that "home" can be found anywhere. While we get used to certain areas and know them well, "home" is a state of mind. If we cling to some other place as our home whenever we're gone, we will inflict suffering upon ourselves.
Letting go of our past feelings of home and settling in to a new place with new people can take some work. The nice thing about monastic life is that we've usually committed to it for a few weeks, so we don't have much choice. We're not in the selfish tourist mindset, where we can just leave or call the front desk for changes if we don't like it.
We're there to be changed by the place. We know this and we agree to it ahead of time. One of Thich Nhat Hanh's reminders for this is:
Breathing in, I have arrived.
Breathing out, I am home.
Again, being home is a state of mind. It comes when our mind, breath, and body can all flow in seamless unison. Ideally, this is how we breathe when we are at our home: calmly and at peace.
Happiness with the simple things
A second lesson from monastic life is that we don't need all of the stuff we think we need. In fact, letting go of a lot of it can bring us joy. How much of our time is spent mindlessly scrolling social media? Or browsing stores in person or online? Our consumeristic society tells us that happiness is always just one purchase away. Our friends and family might reinforce this by talking joyfully of the latest thing they bought. But we know that fades. The rush of the new thing is soon replaced by neutral feelings. And then it is often replaced by distress or worry that the new thing won't work or will break or get dirty.
Living with less eliminates all of that.
In monasteries you don't need much because most of your life is planned out for you. You wear assigned clothing; you rise at a set time and simply go to the meditation hall for pre-breakfast practice. Then you sit.
And sit. And sit.
After this, you have a simple meal, followed by a very short rest, and then more sitting. Sitting, of course, is short-hand for meditating. Often, 8-12 hours of each day is dedicated to meditating. After breakfast, the meditations will be broken up into sitting and walking meditations. This keeps everyone active, a little, and still maintains the meditative mindset.
Small breaks may occur here and there, but the idea is often to keep the mind focused on breathing and the body. For a long time, usually the first 3-4 days in my experience, the mind struggles to go back to its old routine: thinking about stuff, or daydreaming about the next project, or worrying about someone I had a disagreement with. Only after a few days does it finally give up and "come home" to the present practice.
Once that happens, you'll feel grateful to have less stuff and a highly structured day. Anything that takes you away from meditation becomes unwanted. That tends to be true for me, at least. On one long retreat I did years ago, a distressed woman asked to speak with me. The teacher was unsure, as we were all in silence, but asked if it was okay with me and I said yes. She told me about an argument she was having with renters. I don't recall all of the details, but I do recall thinking that this might not be appropriate, as my mind was now spinning in multiple directions trying to help with her situation which I only knew a tiny bit about.
For a bit, my "simplicity bubble" was burst. But luckily, the environment helped me transition right back into it. And that is what life in a monastery or retreat setting does. It creates structures of slowing down that force us into a more mindful life. The goal with each period of deep meditation practice is then to bring that mindfulness more fully into life.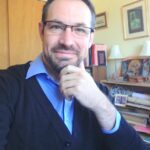 Justin Whitaker, Ph.D., holds a doctorate in Buddhist ethics from the University of London. He has given lectures, and taught Buddhist studies and Philosophy at Oxford University, the University of Hong Kong, the University of Montana, and at Antioch University's intensive study-abroad program in India. A certified meditation teacher, he is a regular contributor to Patheos.com, and Senior Correspondent for Buddhistdoor Global. Justin is the official blog writer for Sunflower Counseling MT in Missoula, Butte, Kalispell, Billings, and surrounding areas. He lives in Missoula with his family.