Unless you've been living under a rock for the last twenty or more years, you're aware of climate change. Here in Missoula, we're seeing more smoke each summer—though 2022 was a very welcome break. The trends, however, are of more heat and less moisture each year. The Montana Wildlife Federation has said that Montana could see temperature rises of 4-5 degrees F by 2055. This might not seem like much, but it will result in warmer, drier summers, more wildfires, less snowpack, and loss of crucial fish and wildlife habitat.
This will threaten our outdoor activities and could cost some people their jobs. This year, we've seen scenes from Europe of snow resorts with too little snow to operate. Montana could be seeing that in years to come!
Graver Concerns
While this shift is damaging, we might think that it is manageable. After all, we're getting too many tourists in some places right now and our housing costs are through the roof. Perhaps some downturn can actually be helpful in restoring balance?
Perhaps. But there are greater concerns to worry about. As we've seen, the changing climate doesn't just produce gentle, linear changes. In many places, the many small shifts have led to massive and devastating weather events. Just this winter, for instance, California has been hit by four consecutive atmospheric rivers, drenching the state in record amounts of rain, washing out roads and causing massive property damage and some deaths.
Elsewhere in the world, slight changes could lead to famines, water shortages, and conflict as people become desperate for dwindling resources. Joshua Hammer, writing for the Smithsonian Magazine, documents how a 2006 drought in Syria led to widespread displacement that set the scene for later massive uprisings and eventual civil war.
Future droughts, massive human migrations, and conflict over dwindling resources could lead to a very unstable future ahead.
Mental Health Toll
Sherl Levy Ph.D., writing for Psychology Today this week, tells us that the mental health effects of climate change include climate anxiety, shock, anger, trauma, shame, PTSD, and depression. And these negative effects will more strongly hit young people and poor and middle-class families.
It thus makes sense that older people feel less urgency in dealing with climate change. Similarly, the wealthy will surely know that they can work around these disasters: after all, if you have homes in 3 different cities, if one is destroyed in a climate catastrophe, you still have 2. Meanwhile, those of us with just one home, or those who are renting and thus even more precarious, feel the concern over loss even more poignantly.
As Dr. Levy notes, children are the biggest victims to our inaction, which is broadly labeled as climate injustice. Catastrophes will hit children more than adults, as they are less able to negotiate a world that is rapidly changing. She cites a study saying that children born in 2020 will experience a two- to sevenfold increase in extreme weather events.
She also notes that climate change is a crisis multiplier, meaning that it exacerbates existing vulnerabilities and inequalities. Those facing ableism, ageism, homophobia, racism, and sexism could face even greater difficulty in times of climate crisis.
Reasons for Hope in 2023
Nonetheless, Levy concludes her piece with words of optimism. She notes the momentum of the climate justice movement, as witnessed at the UN summit in Egypt, where leaders from 197 made new pledges to fight climate change. We might also note the Inflation Reduction Act here in the US, which will provide unprecedented funds for green energy and conservation projects. As a house owner, I have already taken advantage of the tax rebates by ordering new windows. More solar panels and a super-efficient water heater are in the plans for later in the year.
These small changes will still take time to play out, however. And many young people don't know if our actions will be enough to prevent major catastrophe in their lifetimes. The weight of these worries can be immense.
Therapy or counseling can help work through these worries and other effects of climate change. For most of us, these concerns are real and valid. But moving from fears to action can be difficult. Just how this is done will be different for each of us. The important thing is to begin the process. Scientists have warned us about climate change for decades. Now, to whatever extent we are capable, it's up to us to make the changes needed for our own safety and survival as well as that of our children and grandchildren (if we have them!).
There are multiple fronts for us to work on. As Dr. Levy notes, we can make progress ensuring a healthy environment with clean water and air for all as well as food and housing, we can learn more and spread reputable information to friends and our community, and we can push policy-makers to bring about larger changes in our communities and countries to ensure a safe and healthful future for all.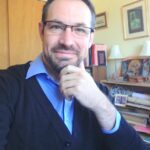 Justin Whitaker, Ph.D., holds a doctorate in Buddhist ethics from the University of London. He has given lectures, and taught Buddhist studies and Philosophy at Oxford University, the University of Hong Kong, the University of Montana, and at Antioch University's intensive study-abroad program in India. A certified meditation teacher, he is a regular contributor to Patheos.com, and Senior Correspondent for Buddhistdoor Global. Justin is the official blog writer for Sunflower Counseling MT in Missoula, Butte, Kalispell, Billings, and surrounding areas. He lives in Missoula with his family.