Growing up in Missoula Montana, I have come to love the seasons here. I've lived in some places that didn't have true winters. Some are just wet and drizzly for most of the winter, like England, and others finally become loveably cool in winter months, like India and Hong Kong. The icy-cold and gray of Montana wins, hands down.
It wins because it prepares me for and makes me incredibly grateful for the warm days ahead. I will always be one of those people who puts on shorts to go outside when it finally gets over 50 degrees. And the summers here can be absolute ecstasy. But I know that they wouldn't be so great if they lasted year-around. So I'm grateful for the Autumn transition and winter freeze.
That said, winter can be a difficult season. The snow forces us to slow down in our cars. Ice-covered sidewalks threaten a tumble. I'm also reaching the age when friends break bones when they fall. So I'm extra cautious on my walks—even to the car. And, when I was in my 20s and likely 30s, I definitely suffered from SAD, or Seasonal Affective Disorder. So these days I have a number of mechanisms to get me through the winters and I always enjoy learning about new ways to stay happy and active in these cold months.
Staying Active
I'm so glad that my wife loves to hike. Even in winter, we will bundle ourselves and our toddler up and get into the car to go to one of Missoula's beautiful trailheads each weekend. Pattee Canyon, the North Hills, and Blue Mountain are all favorites. But sometimes we will just take a long walk around our own neighborhood or to one of Missoula's many smaller neighborhood parks.
It just has to be a habit. And that can be hard to create. But it's worth it. Even on gray or snowy days, we know we have an adventure ahead of us. Staying in the house, which is a natural response to the cold and gray, can lead to lower energy and, for me, the potential onset of SAD. It is also a joy to see my dog out in the snow having a great time, even if the humans in the family are a bit on the cold side.
So if you find yourself sitting around indoors too much in the winter months, you might want to touch base with friends or family members to start up a walking, hiking, sledding, snow-shoeing, or skiing habit. As Chris Prange-Morgan M.A., MSW, writes in a recent column on beating the winter doldrums, "Seek out folks to hold you accountable."
Checking in with Gratitude
Another great habit to cultivate in the winter months if you haven't already is a regular gratitude practice. It is so easy for us today to focus on what we don't have. Social media preys on our propensity to compare ourselves with others. And it always rewards those at the top, which is probably not where you or I will ever find ourselves.
Instead of focusing on those who are ahead of us, we can look at the wonderful things in our lives. Even if it feels like there isn't much right now, think about it. It can be family, friendships, education, or more material things like a comfortable home and reliable car.
If we look out into the world beyond social media, we can see that all of these are amazing blessings in our lives. One of my most vivid memories from traveling to Burma (Myanmar) in 2011 was seeing kids literally playing with bricks and an old bike tire. They were engrossed in whatever game they were playing and when they saw me, they beamed up happily for a photo. This isn't to glorify poverty at all, but rather to say that people can be happy with simple material things. History is also filled with people who have lost their families or even countries but went on to be truly remarkable and happy people. The Dalai Lama and Thich Nhat Hanh, both Buddhist monks, immediately come to mind.
Maintain a Sense of Humor
Ron Breazeale, Ph.D., an author and writer for Psychology Today, reminds us that humor is key for getting us through a long winter. In good "dad humor" fashion, he says, "There are all sorts of jokes about this winter I can't remember right now."
But, speaking of social media, I have recently come across a guy named Logan Lisle on my Facebook feed. I usually skip through the videos they recommend, but his I always watch. They're the corniest "dad jokes" out there, delivered with perfect "dad" timing. I always get a smile from them and on occasion I try to remember them to tell my wife, who dutifully rolls her eyes or half-smiles.
https://www.youtube.com/watch?v=4ql7-IuOhzo&ab_channel=LoganLisle
As the old saying goes, "laughter is the best medicine." If you can shake off the winter blues with a few jokes (and sharing them always doubles their effect in my experience), it makes moving on to other positive activities much easier. In the midst of the humor, you can always take up any number of positive activities, from cleaning and organizing to vision-boarding or otherwise thinking about the warmer months ahead.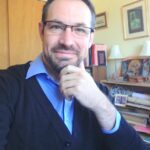 Justin Whitaker, Ph.D., holds a doctorate in Buddhist ethics from the University of London. He has given lectures, and taught Buddhist studies and Philosophy at Oxford University, the University of Hong Kong, the University of Montana, and at Antioch University's intensive study-abroad program in India. A certified meditation teacher, he is a regular contributor to Patheos.com, and Senior Correspondent for Buddhistdoor Global. Justin is the official blog writer for Sunflower Counseling MT in Missoula, Butte, Kalispell, Billings, and surrounding areas. He lives in Missoula with his family.